---
EXCLUSIVE DINING EXPERIENCES
Friday Seafood Night
A well-spent Friday night cannot be without some relaxing moments with good ambience, good vibe and good food. Enjoy the omega-goodness from the sea at the city's fanciest seafood buffet with more selections and twists.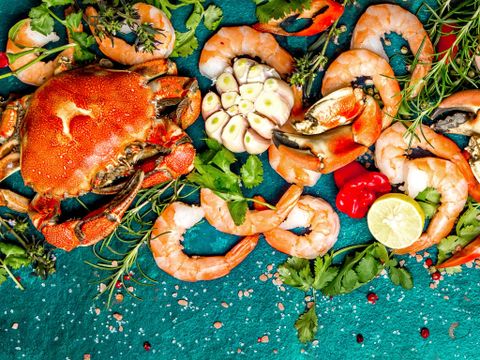 | | | |
| --- | --- | --- |
| | Time | Every Friday, 18:00 - 22:00 |
---
| | | |
| --- | --- | --- |
| | Restaurant | C'est La Vie, 3rd floor |
---
---
---
The seas surrounding our proud nation are home to some of the best seafood on the planet and Chefs at C'est La Vie Restaurant know only too well. From Nha Trang Lobster and guzzling Oysters, sweet Japanese Shrimp, fresh Pacific King Crab, Cobia, Salmon, Ruby Tuna sashimi, and other vast arrays of fresh-caught seafood; all skillfully prepared on the spot. Especially, for the first time, a variety of top-class Vietnamese snail is present in a premium seafood buffet. Spotted Babylon snail, Red Oysters, Mussels, Elongate Cockles, Clams, Scallops... will be served with 9 kinds of local home-made sauce.
Every Friday, prize catches from local fishermen are handed over to C'est La Vie chefs to craft a spectacular gourmet feast which will blow your taste bud away. Sit by the picturesque window and admire a breathtaking view of Saigon by night while savouring delicious seafood cooked as your liking. Local craftsmanship harmonized with global-inspired flavors, this delicious combination will be exposed at our live stations.
Every Friday between 6:00pm – 10:00pm, at C'est La Vie.
Only 1,480,000 VND ++/pax with complimentary mixed juice and soft drinks. Wishing for a flavor enhancement? Enjoy free-flowing wine, beers & prosecco at only 250,000 VND ++/pax.
For reservation, please contact our hotline 028 7303 9000 or our email fb.saigon@maihouse.com
BE SPOILT FOR CHOICE
Meals "Made with Love"
As always, the not-so-secret ingredient is love. This means indulging you with lashings of comfort food – generously proportioned and lovingly plated on any occasion.
FEATURED OFFERS
Can We Tempt You?
Infomation
Discover a majestic collection of nomadic Vietnamese and multinational teas with proven health benefits and make a choice of your own tea from Vietnamese Glamour Tea, Vietnamese Hatvala Tea, French...
View Detail
Infomation
Show how much you care by bringing your significant one to a special gourmet meal in C'est La Vie Restaurant, enjoy premium seafood including both Canadian and Nha Trang lobster...
View Detail
Infomation
Bid farewell to 2019 and usher in 2020 with a New Year's Eve Buffet Dinner. Enjoy a wonderful evening with live entertainment and delicious food from the open kitchen from...
View Detail
LOCATION
Find Us in The Heart of The Old Saigon.
We creatively connect you with our neighborhoods, cultures, cuisines and customs, lending our local insight and treating you to our intuitive service. Inspired by our locations, we bring the best of the destination inside our walls, oering unique opportunities for you to explore the local culture at your own pace.
LET US KNOW WHAT YOU THINK
Your Opinion is Important for Us