---
EXCLUSIVE DINING EXPERIENCES
Sunday Brunch
It would be a waste not to step outside this weekend to face up in the morning sun, stretch your chest to breathe fresh air, look around and enjoy the so-called Sunday Brunch. Make your weekend as leisure as it's meant to be with our aesthetic and scrumptious Sunday feast.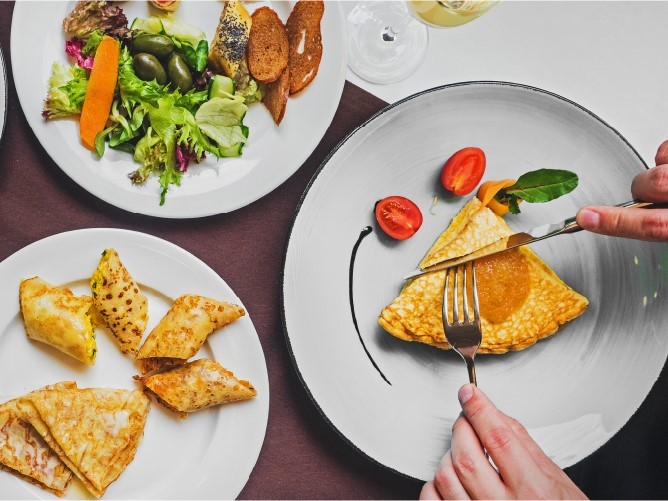 | | | |
| --- | --- | --- |
| | Time | Every Sunday, 11:30 AM - 03:00 PM |
---
| | | |
| --- | --- | --- |
| | Restaurant | C'est La Vie, 3rd floor |
---
---
---
The highlight of Sunday Brunch at C'est La Vie is special dishes such as Smoked Beef Ribs on hot Himalayan stone served with apple pie, a vast array of fresh-caught seafood like Canadian Lobster, Canadian King Crab, sweet Japanese Shrimp, fresh Pacific Cobia, Salmon, Ruby Tuna sashimi, and a variety of top-class Vietnamese snail like Spotted Babylon snail, Red Oysters, Mussels, Elongate Cockles, Clams, Scallops... served with 9 kinds of local home-made sauce. For those who crave for Mediterranean cuisine, kinds of scrumptious cheeses, hams, bacon, pancake, Hollandaise eggs will delight you. Plus, handcrafted Brie cheese stuffed with winter truffle mushrooms should not be missed out! All can be served with homemade artisan bread like white ciabatta bread, whole-wheat bread, multigrain bread, sourdough bread,... The key moment of Sunday Bruch with the special presence of Heaf Chef Phi Cong and his signature dish will leave you a big surprise not only in your palate but in the smell, vision and hearing.
A feast is never complete without a sweet end. Enjoy a selection of handcrafted, sugar-cream controlling dessert by Pastry Chef Khanh ranging from European delight like Éclair, Religieuse, Mille Feuille, Mirror Glaze, to Vietnamese hot/cold sweet soup like Chè Bà Ba, Chí Mà Phù – Black Sesame sweet soup, Sữa Chua Nếp Cẩm – Black Glutinous Rice and Yogurt pudding, Mung Bean Pudding with Aloe Vera and Seaweed, Steamed Pumpkin sweet soup,...
Every Sunday between 11:30am – 3:00pm, at C'est La Vie.
- Basic Package for adult (including soft drinks): 1,380,000 VND ++/pax
- Bisol Belstar Prosecco DOC Brut Package for adult: 1,680,000 VND ++/pax
- Ayala Brut Champagne Package for adult: 1,980,000 VND ++/pax
- Child (6 - 11): 720,000 VND ++/pax (including free flow fruit punch, soft drinks, juices)
For reservation, please contact our hotline 028 7303 9000 or our email fb.saigon@maihouse.com
BE SPOILT FOR CHOICE
Meals "Made with Love"
As always, the not-so-secret ingredient is love. This means indulging you with lashings of comfort food – generously proportioned and lovingly plated on any occasion.
FEATURED OFFERS
Can We Tempt You?
Infomation
Discover a majestic collection of nomadic Vietnamese and multinational teas with proven health benefits and make a choice of your own tea from Vietnamese Glamour Tea, Vietnamese Hatvala Tea, French...
View Detail
Infomation
Show how much you care by bringing your significant one to a special gourmet meal in C'est La Vie Restaurant, enjoy premium seafood including both Canadian and Nha Trang lobster...
View Detail
Infomation
Bid farewell to 2019 and usher in 2020 with a New Year's Eve Buffet Dinner. Enjoy a wonderful evening with live entertainment and delicious food from the open kitchen from...
View Detail
LOCATION
Find Us in The Heart of The Old Saigon.
We creatively connect you with our neighborhoods, cultures, cuisines and customs, lending our local insight and treating you to our intuitive service. Inspired by our locations, we bring the best of the destination inside our walls, oering unique opportunities for you to explore the local culture at your own pace.
LET US KNOW WHAT YOU THINK
Your Opinion is Important for Us