---
EXCLUSIVE DINING EXPERIENCES
In-Room Dining
Mai House Saigon prides itself in offering more than just bedrooms by also providing maximum comfort and all the necessities to make guests feel at home, particularly when it comes to food. Whether you are planning a celebration with cake and champagne or just want to have a meal paired with a handcrafted cocktail, you can do so in the comfort and privacy of your room with our In-Room Dining service.
---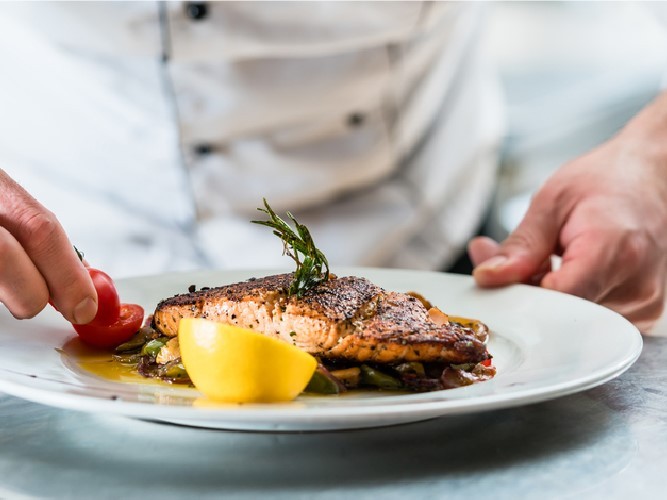 | | | |
| --- | --- | --- |
| | Time | Every Friday, 18:00 - 22:00 |
---
| | | |
| --- | --- | --- |
| | Restaurant | C'est La Vie, 3rd floor |
---
---
---
Our extensive menu includes a wide selection of mains, appetizers and drinks. You will find everything from international favorites to local specialties that features fresh ingredients sourced locally and from Southeast Asia. There are also options for the little ones. Think kid-sized servings of Fish & Chips, or Spaghetti with Tomato Sauce & Parmesan Cheese. For those who feel ravenous past midnight, the Overnight Menu offers options such as Flame-Grilled Wagyu Beef Rib-Eye and Bread & Butter Pudding.
Our in-room dining staff is on hand 24-hours-a-day. All you need to do is sprawl out and enjoy your inner peace while waiting for the finest flavors delivered to your door. We would love to please your appetite while putting your mind at ease.
For reservation, please dial "In-Room Dining".
BE SPOILT FOR CHOICE
Meals "Made with Love"
As always, the not-so-secret ingredient is love. This means indulging you with lashings of comfort food – generously proportioned and lovingly plated on any occasion.
FEATURED OFFERS
Can We Tempt You?
Infomation
Discover a majestic collection of nomadic Vietnamese and multinational teas with proven health benefits and make a choice of your own tea from Vietnamese Glamour Tea, Vietnamese Hatvala Tea, French...
View Detail
Infomation
Show how much you care by bringing your significant one to a special gourmet meal in C'est La Vie Restaurant, enjoy premium seafood including both Canadian and Nha Trang lobster...
View Detail
Infomation
Bid farewell to 2019 and usher in 2020 with a New Year's Eve Buffet Dinner. Enjoy a wonderful evening with live entertainment and delicious food from the open kitchen from...
View Detail
LOCATION
Find Us in The Heart of The Old Saigon.
We creatively connect you with our neighborhoods, cultures, cuisines and customs, lending our local insight and treating you to our intuitive service. Inspired by our locations, we bring the best of the destination inside our walls, oering unique opportunities for you to explore the local culture at your own pace.
LET US KNOW WHAT YOU THINK
Your Opinion is Important for Us